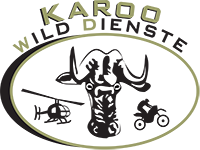 Karoo Stud Game Services
Karoo Wild Dienste (in afrikaans) has been involved with the game capture industry since 1995. Although this industry is linked with a season covering 7-8 months, most of the team are employed on a permanent basis to ensure retention of experienced staff.
We have succeeded in keeping a loyal, experienced team who have been delivering years of exceptional professional game capture services.
Karoo Wild Dienste has also been offering successful boma game auctions at Jakhalsdans since 2004.
Constant changes and adaptations of local & national law makes Game Capture difficult, however Karoo Wild Dienste has always adapted swiftly to these changes and continues to deliver professional services to our clients.
Karoo Wild Dienste is a stable and ever growing business that plays an important role in the moving and re-establishment of game all over South Africa.
Services
Buying and selling of game.
Transport of game.
Game capture.
Game relocation.
Wildlife count.
Veterinary services.
Auctions.
Consultation.
Equipment
Robinson R44 RKT helicopter
Robinson R22 RPE helicopter
8m Isuzu 17/360
4 compartments
± 5 large buck per compartment
8m Mercedes Benz 1528
3 compartments
± 8 large buck per compartment
8m Mercedes Benz 1828
4 compartments
± 5 large buck per compartment
8m Mercedes Benz 1528
6 compartments for 6 bulls
6m Mercedes Benz 1213
4 compartments
± 6 large buck per compartment
10m Double Axle Trailer
4 compartments
± 8 large buck per compartment
10m Double Axle Trailer
4 compartments
± 8 large buck per compartment
10m Double Axle Trailer
5 compartments
± 5 large buck per compartment
8m Double Axle Trailer
3 compartments
± 7 large buck per compartment
3.6m Trailer
2 compartments
± 4 large buck per compartment
6m Trailer
3 compartments
± 10 small buck per compartment
2m Trailer
1 compartment
± 8 small buck
3 x Land Cruiser Bakkies
1 x Mobile Loading Ramp
3 x Honda CRF230 Motorbikes